HEY! A WEEKEND update?! I know, it's been FOREVER since I've done an update on the weekend, but here we are, and time for an update!
First of all, we'll get into the regular celeb news, wacky stories, quizzes and more in a second, but why not a little update into my life first? I don't do those enough!
Well first of all, as I've mentioned on the air, my camera got heisted at the Ohio State Fair in Columbus a month ago today. It sort of got heisted. Someone may have helped it out in getting stolen by leaving it sitting on the bench. I'm not naming names, but I'm the only one in the room right now and it was no one else in here!
So I solicited recommendations via Facebook and got some good replies...my buddy Dave highly recommended a Sony H20. I did research into all of the suggested models, and the one he suggested came up looking strong. There was hardly a bad review on Best Buy's site, and for the price, you got alot of good features that normally you would only get in a more expensive model.
I decided to go ahead and get that one, went to H.H. Gregg, thanks to a sale price. Little bit of hassle, they were out of it at the Canton store, even though the website showed they had it, so I had to drive up to Montrose to get it, but they were cool people to deal with, set me up with everything I needed, and was good to go.
I gotta tell ya, it takes some INCREDIBLE pictures! I went up to Michigan this past week for a few days. My family has a cabin up there in the woods/on the water.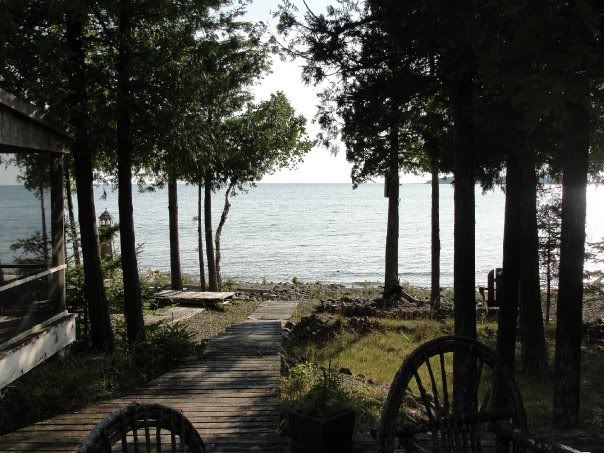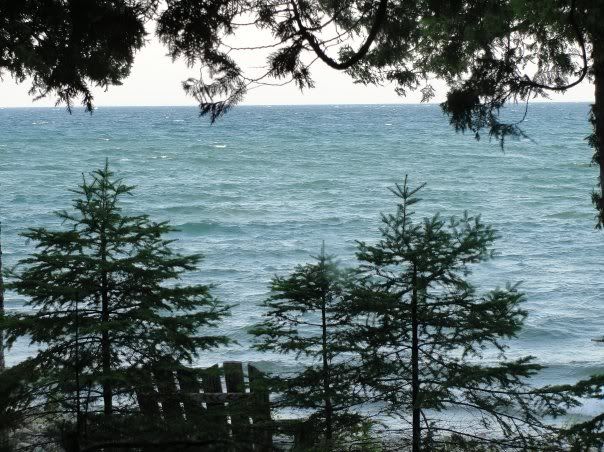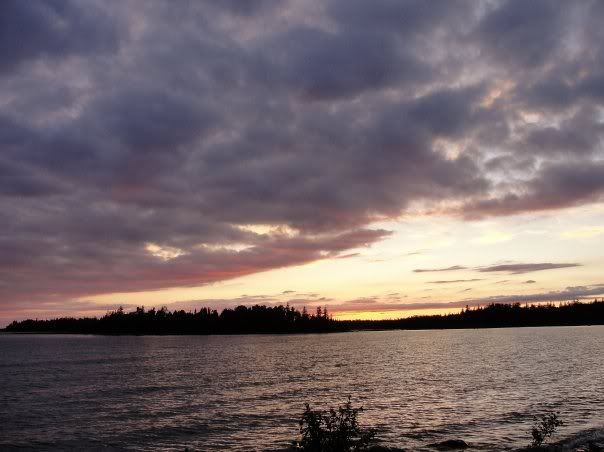 Some good shots, right? I could be a photographer if this radio thing fails me?
This is the camera I got, btw:
http://www.hhgregg.com/ProductDetail.asp?SID=n&ProductID=22890&BrandStore=All
I recommend it highly, so far (only had it for a week...)
ALSO....
HEY MONDAY stopped by the radio station yesterday morning for a visit. Have you heard of them? They opened for Fall Out Boy when they played in Cleveland back in May, then had their own show at the Grog Shop in Cleveland a few weeks later. Got to see them at both shows, and became a fan right away. Very Paramore-ish, and I really dig chick lead singers in bands. There is a new rock band called Halestorm, they have a tune called "I Get Off" that I dig.
Anyway, this is about Hey Monday. I personally think Cassadee Pope (lead singer of H.M.) has stronger vocals than Haley of P'more. She had more range on her.
They're very young, Cass. just turned 20 yesterday! Yeah, we celebrated her birthday, sang to her and got her cupcakes and everything!
They're really awesome, listen for their new song "How You Love Me Now" on Q92!
I've also upgraded to the world of Blackberry. Sarah wants me to take a picture of it...which I'm not exactly sure WHY, it looks like a Blackberry!
Regardless, its thru Alltel because I love Alltel, and thanks to HOLLIE at Wireless Depot in Alliance (beside Pizza Hut), she took care of me! Stop in and see them, they have all the major wireless carriers...and they listen to Q92 :)
Oh, and if you wanna see all my pics, ADD ME ON FACEBOOK!
www.facebook.com/robmackenzie
, or search for Rob Mackenzie in the Akron network.
Myspace too if ya got it, but I don't use that too much these days!
OK, now the usual goodness....
MEGAN WANTS A MILLIONAIRE...

...WOAH! Now you know I'm quite the VH1 junkie! Megan Hauserman was a contest for Bret Michaels' heart on Rock Of Love. Then she competed on I Love Money 2, before grabbing her own show which eventually got the name "Megan Wants A Millionaire", which debuted about a month ago.
Well you surely know the details of that model that was murdered and her body was found...Ryan Jenkins, the suspect, then hanged himself last weekend. Well, Ryan was ON Megan's show, and here is VH1's official statement:
Ryan Jenkins was a contestant on Megan Wants A Millionaire, an outside production, produced and owned by 51 Minds, that is licensed to VH1. The show completed production at the end of March. Given the unfortunate circumstances, VH1 has postponed any future airings. This is a tragic situation and our thoughts go out to the victim's family.
Update: We're sad to announce that both Megan Wants a Millionaire and I Love Money 3 officially have been canceled.
So that's it. I guess we never know who wins?
Speaking of I Love Money 3, I HEARD he WON that show!
GAGA LIKES THE ISRAELI'S

LADY GAGA spent some time in Israel recently...and during much of her visit, she was respectful and modestly dressed.
She even told the Israeli media that her trip to the Holy Land...which included tours of Jerusalem and the Dead Sea...was, quote, "an emotional and spiritual experience." Well, that didn't affect her concert last Wednesday in Tel Aviv.
As usual, Lady Gaga's show was outrageous. She performed in one of her typical, revealing outfits, cursed like crazy, and talked about Israeli men's junk!!
During the show, she shouted, quote, "Tel Aviv, get your (rhymes with STICKS) out, because I heard there's some pretty big (rhymes with SOCKS) here in Israel...Put your hands up and dance, you mother(effers)!"
She also led the crowd in what she called, quote, "a mother(effing) Hail Mary"...said that swimming in the Dead Sea made her feel like, quote, "mother(effing) Superwoman"...and told a story about how she, quote, "did it", while covered in Dead Sea mud.
IS IT...THE RETURN?...OF THE TAYLOR SWIFT PIC OF THE WEEK?!
I forget why I even dropped the feature in the first place. Well, no I don't. It's cause Miley Cyrus is her bff and I can't stand Miley Cyrus.
BUT, regardless, I think it *MIGHT* be time for it to return. Here's some Taylor pics!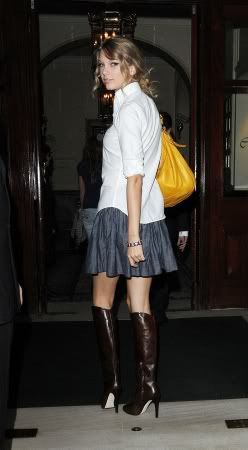 TAYLOR SWIFT doesn't just love her fans...she feeds them too. She brought eight Domino's pizzas to her fans waiting outside her hotel Friday night in London. And after the pizzas were gone...she treated them to boxes of cookies and cartons of milk.
She also stuck around for a while to sign autographs. Fortunately, somebody had a camera so they posted a YouTube video of all the excitement.
Here's that video. The part where Taylor hands out the pizzas ENDS at the 1:20 mark. Then it switches to some personal photos...presumably taken by the woman who shot the video. Then it goes back to photos of Taylor signing autographs.)
http://www.youtube.com/watch?v=py0AC4ekQKo
Here's another amazing fact about Taylor Swift. She's sold MORE ALBUMS than any other recording artist IN THE WORLD this year. And her album, "Fearless", has now been certified either Gold or Platinum in 14 countries.
Those include the U.K., Canada, Australia, Malaysia, Ireland, Indonesia, New Zealand, Taiwan, Singapore, South Africa and The Philippines. (Sales numbers to reach Gold and Platinum vary from country to country, but it's still impressive!)
SLEEP...OR SEX?

I'm a total pervert, so if given the choice, I'll pick hot nasty sex over just about anything. But it seems I'm in the minority on this one. Listen to THIS...
According to a recent survey, 51% of people say they prefer a GOOD NIGHT'S SLEEP over SEX. That's up from 31% in 1999. (???)
Of the ten countries where the survey was conducted, the only one where a majority of people opt for sex over sleep is Canada.
And, contrary to popular belief, WOMEN are actually more likely than MEN to choose sex over sleep.
I have to admit, this survey flies in the face of everything I thought I knew about sex. But maybe I'm just out of touch? Would YOU pick really great sleep over really great sex? Does it depend on who the sex is with? What's going on here?
DO YOU CLEAN YOUR POTTY?

Funny, a friend of mine and I just had a conversation the other night about how often we wash our bed sheets or bath towels. Do you use your towels for a few days at a time? You ARE clean when you're using them!
But, seriously, some of you people are just FILTHY. At least that's according to a new study by New York University which found that:
THREE in FIVE people don't change their sheets every week. And ONE in TEN changes their sheets less than once a month.
ONE in TEN people let the dishes pile up in their sink for two to three days before washing them, while 4% of people wait a week before washing the dishes.
Only 7% of people ALWAYS wash their produce, while 57% of people NEVER do.
More than ONE in FIVE people only clean out their refrigerator once a year.
12% of people say they only clean their bathtub once every few months, while 2% of people say they NEVER clean it.
And 4% of people only clean their toilet every few months, while 1% say they NEVER clean it.
Meanwhile, 15% of people say they NEVER throw away their pillow, which doesn't sound like such a big deal, but it is. Why?
Because after five years, 10% of your pillow's weight is made up of dust mites and DUST MITE DROPPINGS. (!!!)
YIKES! I suddenly want a new pillow.....
KATY THINKS ABOUT HERSELF...AND TOUCHES HERSELF...

KATY PERRY performed several shows in the U.K. last weekend...and for some reason, she couldn't keep her hands off herself. She felt up her hips, chest, breasts and crotch. (Here are some pictures...)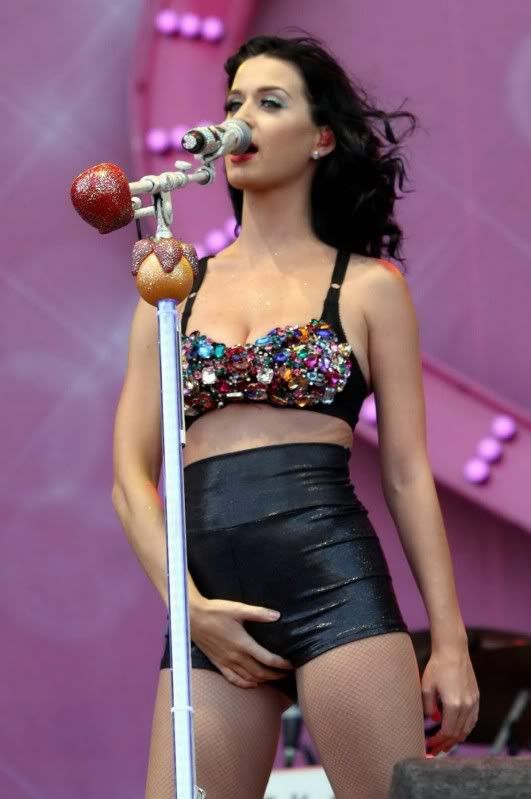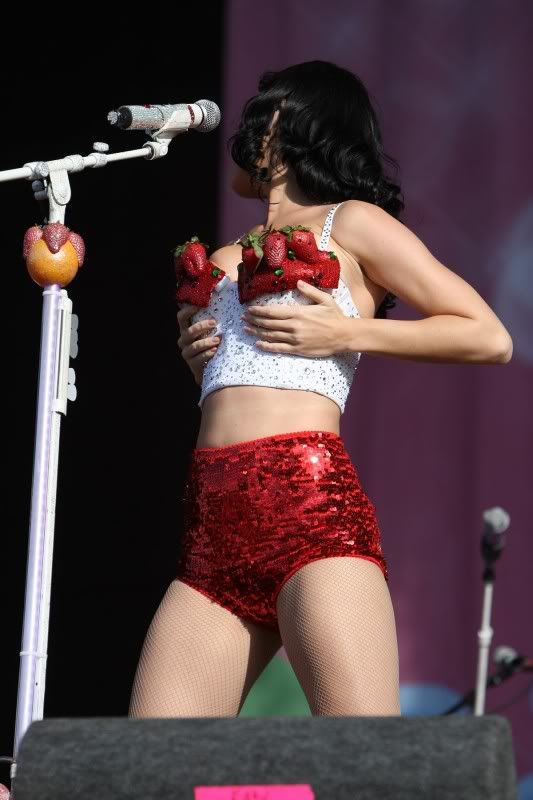 JA RULE IN AUSTRAILIA

Since it IS a Back In The Day weekend, this story seems fitting. Australian immigration officials have FINALLY cleared JA RULE to enter the country. A few weeks ago, his visit was put off due to, quote, "visa processing delays"...even though he'd already been there at least twice.
No further explanation was given for the delay. (Ja Rule missed a few scheduled shows while his visa was being held up. He'll make one of them up tonight.)
VH1 BEHIND THE MUSIC...MEETS LIL WAYNE!

VH1's "Behind the Music" is going hip-hop.
LIL WAYNE will be featured on an episode on September 10th...T.I. will be profiled on October 8th...and on October 13th, 50 CENT will be featured.
T[L]C REUNION SHOW!!!

The two surviving members of TLC...Tionne "T-Boz" Watkins and Rozonda "Chilli" Thomas...will perform together on October 17th, at a benefit concert hosted by JUSTIN TIMBERLAKE.
This is their first concert together in the U.S., as TLC, since 2002...when their third member, Lisa "Left Eye" Lopes, died in a car accident in Honduras.
The event, which is called "Justin Timberlake and Friends", will also feature performances by TAYLOR SWIFT, ALICIA KEYS and CIARA.
AIRLINE STATS

Admit it...you're just a little bit afraid of flying. Hell, I ain't doin' it! Period.
But that begs the question: Which airlines are the SAFEST and which are the most DANGEROUS?
Well, the good people over at the DailyBeast.com took the liberty of examining domestic airline safety records, including the number of accidents and "near accidents", and here's what they found . . .
The five SAFEST major domestic airlines are:
#5.) American
#4.) U.S. Airways
#3.) Southwest
#2.) Jet Blue
#1.) Air Tran...yup, all kinds of flights right here out of Akron/Canton!
--And the five most DANGEROUS major domestic airlines are:
#5.) Alaska
#4.) Continental
#3.) Delta
#2.) Northwest
#1.) United (Overall, you're about TEN times more likely to get into a crash on United than Air Tran, and about 12 times more likely to DIE in that crash.)
--OTHER "FLYING FACTS":
A plane is most likely to crash while landing, but passengers are most likely to die in a crash that occurs during takeoff.
You're 40% more likely to survive a plane crash if you're seated in the BACK of the airplane.
Overall, your chances of dying in a plane crash on a typical American carrier are about ONE in 13 MILLION.
SUMMER LOVE, YOU'LL SEE...

What did you do over your summer vacation??? KIRSTEN DUNST hooked up with a 22-year-old, recent graduate of Ole Miss. Kirsten...who's 27...was partying at a bar in Oxford, Mississippi, when she met the guy.
A so-called "source" says, quote, "They partied together and had a hot little hookup. She invited him back to her hotel and even took him out for breakfast in the morning.
"She was having a good time, and she likes younger guys. But the two have no plans to see each other again."
um WOW, LUCKY KID!!!!!
Hi, Kirsten? Call me.
PATRICK STUMP WAS ARRESTED FOR DRIVING W/OUT A VALID LICENSE:
Just before midnight on Tuesday, FALL OUT BOY singer PATRICK STUMP was arrested in West Hollywood, California, for driving without a valid license.
Patrick was pulled over in a traffic stop (there's no word on why) and that's when the cops discovered he had an outstanding warrant out for his arrest.
A Beverly Hills court issued the warrant back in 2007, when Patrick failed to appear on a misdemeanor driving without a valid driver's license charge. His crime, apparently, was not getting a California license when he moved to the state.
He was booked and released four hours later on a $15,000 bond.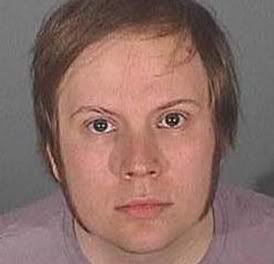 Yesterday, Patrick told MTV, quote, "All I really have to say is ignorance of the law isn't innocence. I didn't want to give up my Illinois driver's license and was unaware that was a crime. It is, by the way, in the state of California. Lesson learned."
He added, quote, "I technically broke a law, so technically I deserve whatever I get. But man, is my mom gonna be pissed."
If convicted of this HEINOUS crime, Patrick faces a MAXIMUM of six months in prison and / or a $1,000 fine. (There's no way he's doing six months for this...)
As you may recall, BRITNEY SPEARS was busted for essentially the same thing in 2007. She had a Louisiana license and argued that her "primary residence" was Louisiana. Her case eventually ended in a mistrial.
BRACE YOURSELF ON THIS BACK IN THE DAY WEEKEND....THE CRANBERRIES ARE REUNITING!!!!

It's been over seven years since you've had the opportunity to shell out 50 bucks to see THE CRANBERRIES perform "Zombie" live. But now, THE WAIT IS OVER.
The Cranberries have just announced that they will end their hiatus with a tour this fall. The dates haven't been unveiled yet, but it'll start in North America before the end of the year...before moving on to Europe early next year.
Singer Dolores O'Riordan released a statement...saying, quote, "We will be writing new songs and performing tracks off my new album as well as our greatest hits during the shows. I'd love to see you out there."
Dolores just released her second solo album, "No Baggage", on TUESDAY. I haven't heard it yet...naturally...but screw that stuff. All I want to hear is "Zombie"!!! And not just once...but over and over again!!! Who can forget that BRILLIANTLY INFECTIOUS chorus??? So, so, good!!!
"In your head, in your head...zombie, zombie, zombie...hey, hey, hey...what's in your head, in your head...zombie, zombie, zombie...hey, hey, hey, hey...oh, oh, oh, oh, oh, oh, oh, hey, oh, yaa, yaa, yoooooow."
YEAH!
ooo, or how 'bout "Free To Decide"...thats a good one! I'll play some Cranberries for ya today, for sure!
AVRIL I-RARELY-WASH-MY-HAIR LAVIGNE, DIVORCE TOWN?

Sources close to AVRIL LAVIGNE say she and husband DERYCK WHIBLEY of SUM 41 are heading for divorce. There's no word what caused the split, but Avril was reportedly soaking up all manner of male attention the other night at a club in New York City.
Toward the end of the night, she got paranoid about the paparazzi, and started going up to them and asking to see what pictures they took of her.