Heyyyyy HEY! Good stuff this weekend. First of all, it's a BACK IN THE DAY weekend! And that means....if you have some good stuff from the 90's and early 2000's you wanna hear...call us up and request it!
WINNING!

Your chance to win: MOVIE PASSES to Regal Cinemas
PLUS: passes into our exclusive invite-only Q92 show at The Pub & Panini's on Monday Feb. 8 with last season Idol-alum ALLISON IRAHETA!
INTERVIEWING!

We'll talk to ANEGL, she's our hometown girl that's on VH1's TOUGH LOVE...she drops by her favorite radio station for a visit in the 4PM HOUR SUNDAY!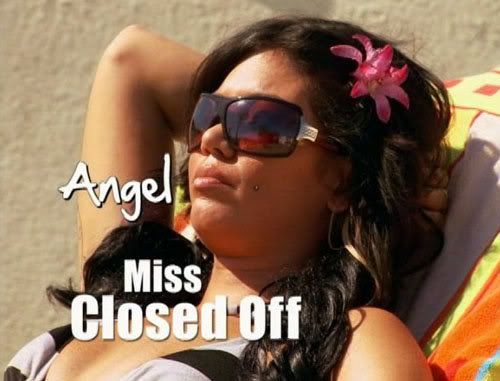 Here's some stuff!
NICK LACHEY ABOUT TO TIE THE KNOT???

The "National Enquirer" says that NICK LACHEY and VANESSA MINNILLO are finally ready to make The Big Mistake. Unfortunately, they can't afford the pricey wedding they want.
It seems that Nick has all his money tied up in a new album he's working on. As for Vanessa, she quit working for MTV to launch a movie career...which hasn't really materialized yet.
A so-called "source" says, quote, "He wants to give Vanessa...a beautiful wedding. But it's as if neither of them has the money to pay for an extravaganza."
BACK IN THE DAY MUSIC NEWS: BLINK-182

If you were hoping that BLINK-182 would release their comeback album this year...there's bad news. It doesn't sound like that will be happening.
In an interview with "Billboard", guitarist TOM DELONGE said that the band was talking with Interscope Records about releasing their new album NEXT year. No details...like a title or specific release date...have been announced.
BACK IN THE DAY MUSIC NEWS: DIDDY

The extravagant 16th birthday party that DIDDY threw for his son, Justin, went down in New York City on Saturday night...and the kid made out well.
Diddy asked guests...some of whom were minor celebrities...to donate to Haiti instead of bringing presents, but he didn't follow his own advice.
Diddy gave Justin a brand new, silver MAYBACH...worth about $360,000...plus a $10,000 check to open a bank account. Justin then announced that he'd be donating the check to WYCLEF JEAN'S Yele Haiti charity.
The Maybach is staying with Justin, naturally.
Justin told "Us" magazine, quote, "I'm just ecstatic right now. Words can't even describe how I feel. I'm so blessed and thankful for all of this."
Footage from the party will appear in an upcoming episode of MTV's "My Super Sweet 16".
BACK IN THE DAY MUSIC NEWS: CHRISTINA MILIAN

CHRISTINA MILIAN'S 81-year-old neighbor claims that her dog mauled him...and he wants cash. He's suing Christina and her family for an undisclosed sum.
The man says the dog got loose and jumped him from behind, biting a huge chunk out of his arm that took 19 stitches and nine months of rehab to recover from. And he claims he's still getting psychiatric help for, quote, "fear and depression."
BACK IN THE DAY MUSIC NEWS: ALL-AMERICAN REJECTS

"Twilight" stud TAYLOR LAUTNER has signed on to participate in DirecTV's Fourth Annual Celebrity Beach Bowl, which goes down on February 6th...the day before the Super Bowl.
If you haven't seen one of these, it's basically a flag football game featuring "celebrities" and various NFL personalities. It takes place on sand.
The other celebrities will include: "Gossip Girl" stars Chase Crawford and Jessica Szohr, Victoria's Secret model Marisa Miller, Christian Slater, and "Entourage" star Kevin Dillon. (More may be announced later.)
New York Giants quarter back ELI MANNING will coach one of the teams...and former NFL studs TROY AIKMAN and WARREN MOON will quarterback the teams.
And the ALL-AMERICAN REJECTS will perform a post-game concert.
DirecTV will broadcast the Celebrity Beach Bowl on their 101 Network.
BACK IN THE DAY MUSIC NEWS: GOOD CHARLOTTE

GOOD CHARLOTTE have scrapped the recordings for their next album, "Cardiology", and have started over. Guitarist BENJI MADDEN says, quote, "I went into the studio to hear some roughs and it just wasn't right.
"I called all the boys immediately and called an emergency meeting. Everyone sat down, and I just said 'Guys, we gotta start over.' I was expecting everyone to freak on me and say 'What?!' [But] everyone agreed."
BACK IN THE DAY MUSIC NEWS: XTINA!!!!!!

CHRISTINA AGUILERA'S next album, "Bionic", was supposed to come out in March, but yesterday she announced that it's been pushed back to April. (There was no explanation for the delay, and no specific release date was given.)
The first single, "Glam", will be out sometime next month.
STILL TRYING W/ THAT NEW YEAR'S RESOLUTION?...

As an American, it's practically your patriotic duty to become an obese, self-centered loud-mouth. But if you'd rather be a self-centered loud-mouth of average size, here are four diet tips to help you shed those extra pounds:
I am certainly a victim of the first 3 lately. Gotta work on these!
#1.) Start walking: The American Heart Association recommends you take 10,000 steps every day. That's like walking three miles a day. Or 1,095 miles a year.
But while the average European walks about 237 miles a year, the average American walks just 87 miles a year. That's about 8% of how much you should be walking.
#2.) Eat slower: For most Americans, eating a meal involves stuffing their face with as much food as possible, as quickly as possible. But studies have shown that eating slowly can help you feel full quicker, which will prevent overeating.
#3.) Eat-in more: The average American eats more than half their meals at restaurants, while residents of the healthiest countries in the world eat out only on special occasions.
#4.) Be careful with tropical fruits: If you're trying to lose weight, eating more fruit is a good place to start. But watch out for tropical fruits like pineapple and coconut because they have the highest fat and sugar content of all fruits.
IN HONOR OF THE NEW SONG...

"Bedrock" by Young Money w/ Lil Wayne, I had no idea about this place!
The Flintstones Bedrock City: This is a "Flintstones" theme park and campground in Custer, South Dakota. It's meant to keep the kids entertained, but I bet you'd still like to go, wouldn't ya!?
Check out their website at:
http://www.flintstonesbedrockcity.com/
.
SCHOOL RULES...

So it's about that time of the year for the "winter dance" at your high school.
This Saturday is the annual Winter Formal at Union Grove High School in Union Grove, Wisconsin.
School officials wanted to make sure the students didn't have any FUN, so they released a list of rules for the dance.
According to the regulations, quote, "When dancing back to front, all dancers must remain upright. No sexual bending is allowed. Examples are, no hands on knees, and no hands on the dance floor with your buttocks touching your dance partner.
"There will be no touching of the breasts, buttocks or genitals. There will be no straddling of each others' legs. BOTH feet must remain on the dance floor at all times." (???)
It also mentions the dance will be videotaped to, quote, "insure the safety of all students attending."
The only real comment I have...it's a dance. HOW THE HELL do you keep BOTH feet on the floor at all times?!?! TOO FAR!!!
COSMO NAILS IT...

I have to hand it to the folks at Cosmo. They have got all of these down PERFECTLY!! See if you agree...
In their never-ending quest to provide you with hard-hitting journalism, "Cosmopolitan" magazine just put out a list of
Things Men Think Are Overrated
. Some of them might surprise you. Here they are...
#1.) THE SMELL OF PERFUME. It's okay, but "Cosmo" says guys prefer the smell of a woman's HAIR.
#2.) A GIRL WHO WATCHES FOOTBALL. If a woman truly likes football, that's great. But if she's just watching it because she thinks a guy wants her to, it's a waste of time. Guys appreciate the effort...but they're fine watching it alone.
#3.) PICNICS. Eating outside is great, but men prefer cookouts. If you give a guy the choice between eating a sandwich out of a wicker basket, or a hamburger off a flaming grill, he'll almost ALWAYS choose the grill.
#4.) BED AND BREAKFASTS. Men prefer ANY other form of lodging. At a bed and breakfast, the rooms are "cute"...which means they're LAME...breakfast is served WAY too early, and all the other guests are old.
#5.) DOUBLE DATES. They're usually a little awkward. WOMEN are the ones who set them up, so they've at least got one friend there to talk to. But the two guys are complete strangers. And not all men can bond instantly.
#6.) MAKE-UP SEX. Guys think it's overrated because they hate fighting almost as much as they love sex, so there's really not much of a net gain with make-up sex. And guys like regular sex just as much.
HAYDEN IS A RED-HEAD!!!

HUGE news to report this morning: HAYDEN PANETTIERE is a redhead. She says, quote, "It's fun to change things up, and I feel I don't have to overcompensate as much personality-wise when I have red hair as I do with blonde hair."
RIHANNA DOES GRAMMY'S...ALONE

Last year, RIHANNA didn't make it to the Grammys because, as you may recall, she was ASSAULTED by CHRIS BROWN the night before. Rihanna IS going to the ceremony this Sunday. But she's going alone.
She says, quote, "I'm going to the Grammys alone, as always! Even when I was in a relationship, I always have gone alone."
Then she added, quote, "I'm still single, if that's what you really want to ask
!"






SPEAKING OF GRAMMY'S....

The Grammys have announced that EMINEM, LIL WAYNE, DRAKE and BLINK-182 drummer TRAVIS BARKER will team-up for a, quote, "special performance" at this year's ceremony, which will air this Sunday night on CBS.
It's unclear what they will be performing...but the lineup of rappers is close to the all-star group that did Drake's "Forever" track...only minus KANYE WEST.
LADY GAGA will also perform. She'll open the show with a surprise guest. The "New York Post" thinks it'll be ELTON JOHN, but we don't know that for sure.
Previously announced performers include: Mary J. Blige and Andrea Bocelli, Beyoncé, the Black Eyed Peas, Dave Matthews Band and Taylor Swift, Bon Jovi, Green Day, Lady Antebellum, Maxwell, Pink and the Zac Brown Band.
Plus, there will be a Michael Jackson tribute...featuring Celine Dion, Jennifer Hudson, Smokey Robinson, Carrie Underwood and Usher.
JOHN MAYER TELLS IT LIKE IT IS...

If you are a celebrity with your own fragrance...or fragrances...you are about to receive a serious verbal beat-down.
JOHN MAYER is taking aim at the whole celebrity fragrance phenomenon...and he really hits the bullseye.
Check out what he has to say about it...quote, "I'm not diversifying in terms of selling anything. I'm not selling 'John Mayer: the cologne'. If I did it would just smell like sausage and sleep.
"I don't look at my fans and think, 'Wow, they really like what I do musically. Imagine if I could get 60 more dollars out of them!'
"Who out there really goes, 'You know what, I just (effing) love perfumes. I always have since I was a kid. If I weren't a pop singer, I'd be a perfumier...?
"At some point I may turn into an (A-hole), but right now I just peddle a CD for $15 dollars every two years."
TEAM COCO!!!

CONAN O'BRIEN went out with a bang. About 10.3 million people watched his final episode of "The Tonight Show" last Friday.
That was Conan's biggest "Tonight Show" audience. It beat his first episode, which was seen by around 9.2 million people last June. In addition, Conan also averaged 5.3 million viewers across all last week. "Letterman" averaged 3.9 million viewers.
Conan averaged more viewers during his first week...but the 5.3 million last week was a huge bump from his overall average, which was just 2.8 million viewers.
MORE BIG DOIN'S FOR T SWEEZY...

Is there no digital sales record that TAYLOR SWIFT cannot destroy? Taylor's song "Today Was a Fairytale" just broke the record for best first week download sales by a FEMALE artist. She sold 325,000 copies.
Taylor passed BRITNEY SPEARS, who sold 286,000 downloads of her song "Womanizer" back in 2008. The BLACK EYED PEAS own the biggest week among all artists...moving 465,000 units of "Boom Boom Pow" back in 2009.
FACEBOOKS SKANKS OR MYSPACE SKANKS...

While you're wasting your valuable free time online this weekend, I want you to ponder an important question: Which social networking site has the highest concentration of women who take trashy photos of themselves: MySpace or Facebook?
Just kidding! It's a trick question: Everyone knows the women of MySpace have the self-taken cell-phone skank-shot down to a science. Or do they?
While the average woman on Facebook has a more respectable reputation, there's growing evidence to the contrary. If you want to compare, be my guest...
MYSPACE GIRLS:
http://thechive.com/2010/01/20/myspace-girls-like-facebook-girls-only-trashier-34-photos/
FACEBOOK GIRLS:
http://thechive.com/2010/01/27/facebooks-pretty-cool-i-guess-25-photos/
THAT ABOUT DOES IT...ENJOY YOUR WEEKEND...BUNDLE UP!
Oh, and this is what spending your birthday with the DeLuca show will get ya....