Wow, I'm so out of it this morning. Actually, as I type this, it's 11:58 AM, but I've been just staring at this screen for at least 3 or 4 minutes.
Hey, homeward stretch! Friday is coming!
Let's hang again tonight, 7-Midnight?
P!NK'S PREGNANCY HAS MADE HER CLUMSY...
I'm betting a lot of ladies can relate to this: PINK says pregnancy has made her clumsy. She Tweeted, "I am the clumsiest I have ever been in my life. Fell AGAIN today! I feel like my 92 yr old grammom … #dumb."
She added, "I just feel...silly. I fell up the stairs."
I've done that before. Should I blame it on my pregnancy? Oh wait that's just a food baby. Nevermind.
At least her pregnancy is going better than her mother's. Pink also Tweeted, "My dad drug her by her coat 20 feet hanging from the car door in snow when I was in her tummy."
Some of the follow-up comments on her Facebook are rather funny :)
MARIAH IN LABOR?
MARIAH CAREY may have gone into labor yesterday. Because early in the evening, NICK CANNON posted the following Tweet...
"On a plane back to NY. Praying Dem Babies wait for DADDY to come back b4 they pop out!"
ABOUT THOSE RIHANNA SHORTS...
The pic is on my FB: www.facebook.com/robbiemackpage (click it at the top of the page or scroll down a bit..)
THEY'RE PAINTED ON!!!
WOULD YOU RATHER...GET DUMPED OR PUNCHED IN THE FACE??
According to a new study, when you get dumped, it triggers a special area of your brain. And no, despite the evidence to the contrary, it's not the area of your brain that suddenly makes you want to listen to Celine Dion songs.
Researchers at the University of Michigan have found that getting dumped triggers the same part of the brain as getting PUNCHED IN THE FACE.
The region of the brain that responds to physical pain overlaps with the region that responds to social rejection. So when you feel severe physical pain or severe emotional pain, your brain interprets them the same way.
Ethan Kross is a psychology professor who led the study. He says, "These results give new meaning to the idea that rejection 'hurts.' It's not [just] a metaphor."
LADIES, ARE YOU *GASP* TURNING INTO YOUR MOTHER?
Ladies, one day you're going to wake up and realize you've turned into your MOTHER. A new survey has tried to pinpoint exactly WHEN that's going to happen.
In the survey by Hallmark, of all people, the average woman says she turned into her mother at age...32.
Ladies, have YOU turned into your mother yet? In what way?
The most common sign that you've become your mother is that you find yourself WORRYING MORE. The other common signs are stocking up on groceries, going to bed early, being more outspoken, and....watching soap operas.
Two out of five women say they've also found themselves talking to their children with phrases that their mother used with them.
25% of women say they've accepted that they've turned into their mother. 15% say they're actually HAPPY about it...17% are miserable about it and say they will keep on fighting it until the day they die.
One more finding from the study: One-third of MEN also say that THEY'VE turned into their mothers. (!!!)
...ON THE ROOF
College students are still combining crazy stunts and reckless sex. Refreshing, isn't it?
Some photos surfaced online yesterday of two students at the University of Southern California who had relations on top of a SCHOOL BUILDING. In broad daylight. Apparently with people down in the quad below.
There's not too much that's known about the students...like who they are, who took these photos of them, how much trouble they're in. We do know that the girl kept her shirt on, though, for what that's worth.
UPDATED WITH PICS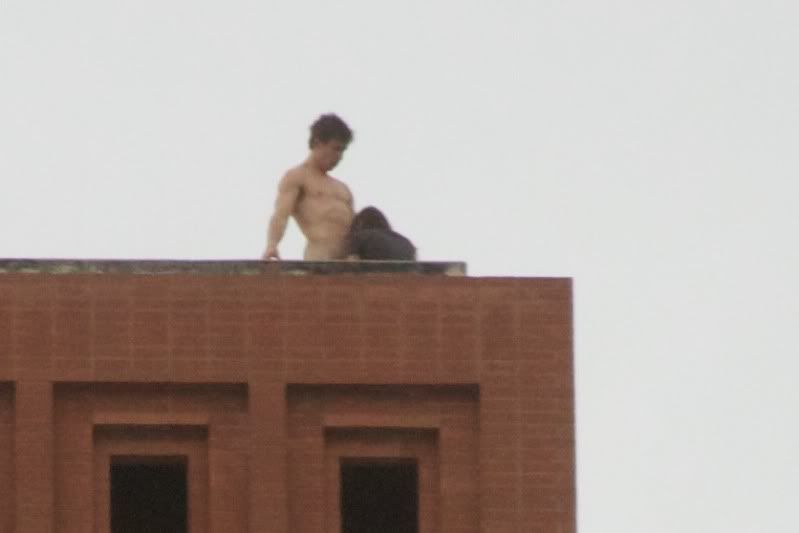 Damn...
INCOMING!!!
I HOPE MY KID IS DUMB...
I guess this is a reason to hope your kid turns out kinda dumb. Because the smart ones can REALLY turn out to be a-holes.
17-year-old Rachel Hachero of Lee County, Florida is a smart kid. According to her mother, she's been accepted into several Ivy League schools.
Last week, she and her mother went to a Nissan dealership. Rachel really wanted a 2004 black Nissan 350Z. (!!) If you don't know, those are NICE, sexy, sleek cars. Very sporty. Seems like more of a dude car... But her mother REFUSED to co-sign for the car.
They argued...Rachel ended up pulling out a GUN...A FREAKIN' GUN!!!...PISTOL WHIPPING her mom in the head...and threatening to shoot her if she didn't co-sign.
Her mother called the cops...but then backpedaled and said she didn't want to press charges because it might mess with Rachel's college prospects. (Are you seeing a problem here? A glaringly obvious one? Daughter runs the show, obviously)
The police decided to charge Rachel anyway. She was hit with aggravated assault with a deadly weapon, unlawful possession of a firearm, and battery.
The gun that she used was reported stolen in a robbery last July. The police are still trying to figure out how she got it.
FIVE AWFUL REASONS TO POP OUT A KID...
There are a lot of good reasons to have kids. But the website Babble.com decided to be a little more pessimistic about it. Here are the five WORST reasons to have a baby.
#1.) Because You Want Unconditional Love. Sure, your kid will probably love you, but it'll also cry, throw tantrums, and need constant attention. So if you just want something to love you unconditionally, try a puppy first. (Hey, the website wrote these, but what about when the puppy pisses on your couch and eats your shoe?)
#2.) Because You Think It'll Save Your Marriage. It might work in the short term, but if you're already having problems, there's a good chance that having a baby will just put even MORE strain on your relationship, especially as the child gets older.
And if you eventually decide to get a divorce, it'll make things much more complicated and painful.
#3.) Because You're Sick of Your Parents Nagging You About It. Remember, they won't be the ones doing all the work and dealing with the added stress.
And if you're not ready for a baby yet, taking care of one will be much more annoying than dealing with your mom's nagging.
#4.) Because Your Brother or Sister Had a Kid, and Now They Get All the Attention. First of all, there's no guarantee that having a baby will change anything, because your parents might end up favoring the first-born grandchild no matter what.
Plus, having a baby is irreversible. So sibling rivalry should have NOTHING to do with your decision.
#5.) You Think Having a Baby Will Make You Less Selfish. If you'd describe yourself as somewhat self-centered, then having a kid might not change you. It might just make you unhappy.
That's not to say that having a baby won't change your priorities AT ALL. But you shouldn't have a kid just to fix something about yourself.