Hey! How ya doin?
We had TINO COURY in town yesterday for a Q92 show...good times, even if he IS a Squeelers fan! He's from Pi**sburgh though, he's allowed I guess.
NEON TREES are our next Next Big Thing show, this WEDNESDAY at Noon. Listen to win 4 PACKS of tickets to the show! They're a BRAND NEW act we JUST started playing, listen for the song "Animal" by them!
It's also an all-request Back In The Day weekend!
Here's some shtuff...
RETIREMENT AT AGE 24
Talk about living the dream! AMANDA BYNES hasn't starred in any theatrical films since 2007, when she did both "Hairspray" and "Sydney White".
She's done two TV movies, and she co-stars with EMMA STONE in a movie called "Easy A", which comes out in September. But after that, she's DONE. Amanda has officially RETIRED from acting...at the ripe, old age of 24. She made the announcement the other night on Twitter.
She said, "Being an actress isn't as fun as it may seem. If I don't love something anymore, I stop doing it. I don't love acting anymore, so I've stopped doing it.
"I know 24 is a young age to retire but you heard it here first I've retired."
She added, "I've never written the movies and TV shows I've been a part of. I've only acted like the characters the producers or directors wanted me to play."
Again, living the dream. I'm 24, like Amanda, and would sure love to retire! Maybe at 64....
GAGA/YANKS...

You may have heard about LADY GAGA by now, going to the YANKEES game last weekend and getting BANNED by the Yanks organization! Apparently she made quite the scene with the players, and in typical GAGA fashion, she wore NO PANTS!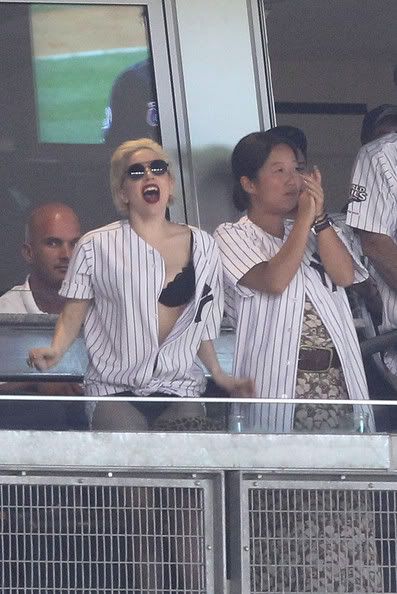 THE GAGA/ROLLING STONE INTERVIEW
Saving you from dropping $5 on the mag!
LADY GAGA is on the cover of the new issue of "Rolling Stone", which is on newsstands now. In the interview, she says that, in some ways, she still feels like Stefani Germanotta...the normal girl she was BEFORE "Lady Gaga."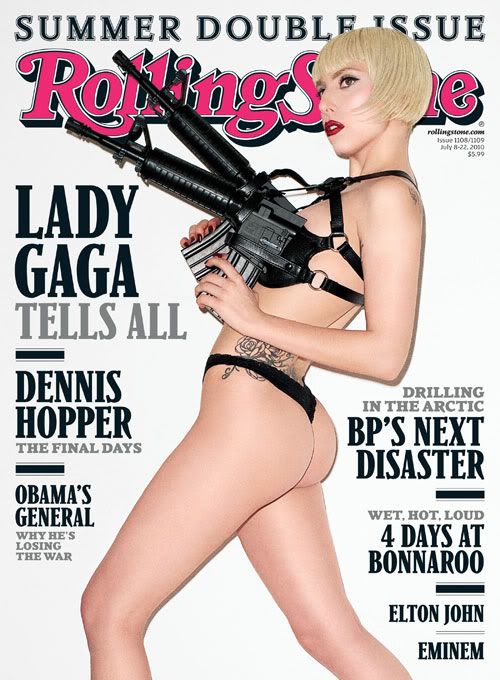 She says, "When I wake up in the morning, I feel just like any other insecure 24-year-old girl. Then I say, 'Bitch, you're Lady Gaga, you get up and walk the walk today.'"
But that doesn't mean she plans on revealing any of that to her fans. She adds, "If I were to ever, God forbid, get hurt onstage and my fans were screaming outside of the hospital, waiting for me to come out...I'd come out as Gaga.
"I don't even drink water onstage in front of anybody, because I want them to focus on the fantasy of the music."
Lady Gaga says she's almost finished with her next album... "I've been working on it for months now, and I feel very strongly that it's finished right now. It came so quickly. Some artists take years...I don't. I write music every day."
She's planning on unveiling the title at midnight on New Year's Eve...and possibly in a very unique way. She says, "I think I'm gonna get the album title tattooed on me and put out the photo."
Lady Gaga says the new music will be a little more political. She says, "Why are we still talking about 'Don't ask, don't tell'? It's like, what (effing) year is it? It makes me crazy!
"And I have been for three years baking cakes...and now I'm going to bake a cake that has a bitter jelly. The message of the new music is now more bitter than it was before. Because the sweeter the cake, the more bitter the jelly can be." (???)
The album is expected to come out early next year.
JT N GLEE

Word has it that JUSTIN TIMBERLAKE is in talks to appear on "Glee" next season. Supposedly, he'd do one episode...playing the younger brother of glee club teacher, Mr. Shuester. (Who's played by MATTHEW MORRISON.)
There's no official line on anything yet...just so-called "insiders" saying the usual things like "the cast members are excited about the prospect of working with him"...and that everyone is, "just trying to work it all out" to make it happen.
I've only half seen one episode of Glee. It was on after IDOL one night and I was too lazy to change the channel. Here, it's set in Ohio! And they were talking about Akron, and EJ Thomas Hall, and the kids even go to McKinley High School! It's not set in Canton though, Lima supposedly. No offense to Lima, but how'd they land that?! We're bigger and better than Lima!!!
SPEAKING OF GLEE....
We heard recently that the producers of "Jersey Shore" hand out anti-STD meds to the cast like they're candy. Well, it sounds like they should do that on the set of "Glee", too.
"Glee" creator RYAN MURPHY has actually been forced to put a NO-SEX-IN-THE-TRAILERS rule in place.
He tells Britain's "Heat" magazine,"I've certainly dated people I've worked with and, you know, when you work on a set for 18 hours a day I think it's natural.
"But I have a rule: Don't do it in your trailer. They've broken that rule on many occasions. I'm like, 'I know you guys are young and hormonal, but don't do it in your trailer'. I'm the dad, that's what I say.'"
Oh snap!!
IT'S TIME TO BUY AMERICAN!
That's because for the first time ever, American cars are breaking down less than foreign cars!
Maybe a near death experience was all the U.S. auto industry needed to FINALLY get its effing act together.
J.D. Power and Associates just released its 2010 Initial Quality Study, which measures how often new cars have problems. And for the first time in history, foreign cars broke down MORE OFTEN than American cars.
It was REAL close, though. The average foreign car brand had 109 problems per 100 vehicles. The average American car brand had 108 problems per 100.
Yes, that means that, if you buy a new car, you're pretty much guaranteed it's going to have a problem at some point.
Even though the American average was slightly better, the highest-quality brand on the list is foreign. It also costs a fortune. PORSCHE was the most-reliable car brand in the 2010 study, with 83 problems per 100 cars sold.
The rest of the top five most-reliable are: Acura, Mercedes-Benz, Lexus and Ford.
Land Rover took its traditional spot as the least-reliable car brand. Land Rover has 170 problems per every 100 cars. Mitsubishi was second-worst, with 146 problems for every 100.
BACK IN THE DAY MUSIC NEWS: JA RULE

JA RULE believes that aging rappers like JAY-Z will always be relevant . . . because hip-hop's audience is aging along with the genre.
He explains, "[Hip-hop is] always going to be a youth-driven business. It's basically a rebellious music, a music of the culture, of the now, it changes constantly, so it's always gonna be youth-driven.
"But here's what you got to understand, as hip-hop gets older, so does the audience. I grew up listening to hip-hop, my kids are growing up listening to hip-hop, we listen to hip-hop together.
"So I'll get a 'Blueprint 3' album for myself and they may want New Boyz. It's a perfect contrast, let it be what it's gonna be. Hip-Hop's not going anywhere because the older we get, we're still listening.
"You gotta think 60 years down the line, if I'm a 60-year-old dude, I think I'm still gonna be listening to hip-hop. (Technically, 60 years down the line, Ja Rule will be a 94-year-old dude.)
"I don't think there's an age limit on hip-hop anymore, like I said, it's always gonna be a youth-driven music but we're growing up and we're getting older and we're still listening to hip-hop so, there's an audience for it all."
Well, there's a slight difference between remaining relevant...and remaining relevant TO the genre. If guys like JAY-Z are still going strong 10 to 20 years from now, it'll be interesting to see if they're still on the cutting edge.
MILEY LOOKING WHORE-Y...
...at last weekend's MUCHMUSIC AWARDS in Canada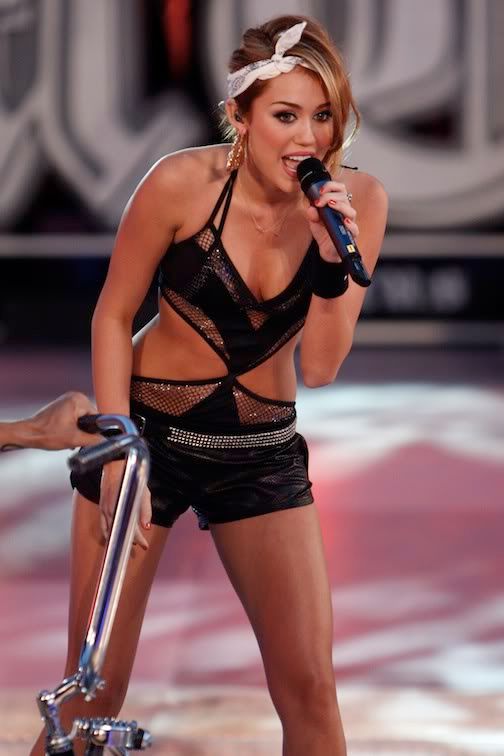 PUT ON A LITTLE MOOD MUSIC...

There's a reason that painfully cheesy love ballads have been PRINTING MONEY for almost a century now. It's because they WORK.
A new study in Paris found that women find men more attractive if there's a love song playing than they do if there's a rap, heavy metal or rock song on.
Researchers also found that a woman was TWICE as likely to give a guy her number when the background music in the room was a love ballad.
PIEROGI'S IN PI**SBURGH??

24-year-old Andrew Kurtz of New Brighton, Pennsylvania, used to have a great job: In the fifth inning of every Pittsburgh Pirates home game, he'd dress up as a GIANT PIEROGI. Then he'd participate in the pierogi race (like the Tribe has the hot dog derby)
Unfortunately, last week, the Pirates fired him...when they learned that Andrew posted a Facebook status update that ripped on the Pirates.
He wrote, "Coonelly extended the contracts of Russell and Huntington through the 2011 season. That means a 19-straight losing streak. Way to go Pirates."
To translate that for those who aren't well-versed on the Pirates' front office situation...which, I'm guessing, is pretty much all but like 15 dudes in Pittsburgh...here's what that meant.
Frank Coonelly is the team president and he gave contract extensions through 2011 to the general manager, Neal Huntington, and the manager, John Russell.
Unless there's a miraculous turnaround, this season will be the Pirates' EIGHTEENTH-STRAIGHT losing season...so, Andrew was saying that by extending the GM and manager, the president pretty much guaranteed the 19th too.
Andrew says he learned from the experience, "Don't post personal thoughts about the boss. Just keep quiet."
His mom Mary wasn't so diplomatic. "My son was always a big Pirates fan. He took pride in being a pierogi runner. Since when in this country are you not allowed to state an opinion?"
DRAKE WANTS TO FIND SNOOKI'S LOVE!

Up-and-coming rapper DRAKE probably has a lot of choices these days when it comes to tail. But the tail he's chasing belongs to "Jersey Shore" skank SNOOKI.
The "New York Post" says Drake was putting the moves on Snooki backstage Sunday at the "MuchMusic Video Awards" in Toronto.
A source says, "He was flirting with Snooki and trying to get her to come to his after-party. He was holding her hand the whole time."
Here's the thing, though...Snooki DID show up at Drake's party, but security turned her away. The source says,"Drake found out about it a lot later and was really mad that Snooki didn't get in."
NEW MENU ITEMS AT FRIENDLY'S:
Friendly's restaurants are the latest to hop on that trend. They've just introduced their Grilled Cheese BurgerMelt...which is a hamburger where both the top and bottom buns have been replaced by full GRILLED CHEESE SANDWICHES.
This burger has 1,500 calories, 97 grams of total fat and 101 grams of carbs. (!!!) On the bright side, it's got 54 grams of protein.
And really, with the way that most restaurants butter their buns, this isn't THAT much worse for you than a regular burger. Friendly's regular hamburger has 1,190 calories, 68 grams of fat and 103 grams of carbs.
So replacing the bun at Friendly's with two grilled cheese sandwiches "only" adds 300 calories and 29 grams of total fat...and actually SAVES you two grams of carbs.
In other words, you can make up the difference in less than a half hour on the treadmill. So, if you're lucky enough to live near a Friendly's (Belden Village, right on the corner of Dressler & Everhard), enjoy this new piece of American ingenuity.
BACK IN THE DAY MUSIC NEWS: OUTKAST!

For a while now, we've been hearing that ANDRE 3000 and BIG BOI will reunite for another OUTKAST album after they each release solo albums. But apparently, that's all they plan on saying.
Big Boi says, "When I do interviews and [people] ask where the OutKast album is, I have to tell them it's top-secret information...and that me and Andre 3000 will have to put something to your temple if I say something about it.
"We made a pact that we will not disclose any information until it's about to come out." As far as we know, there's no timetable for an Outkast disc.
THE TIMES?

A new survey at Penn State University found that women almost UNANIMOUSLY believe that sex is best when it lasts between seven and 13 minutes. Anything more than that is, quote, "too long."
Women said that less than two minutes is too short and three to seven minutes is adequate...but barely.
I find this hard to believe...that women are satisfied after 7-13 minutes. Doesn't seem right to me!
THIS IS FANTASTIC NEWS!

If you really like Subway's white bread, like me, but you choke down the nine-grain bread to be healthy like JARED...you can stop doing that now. I did awhile ago. The nine-grain bread is a joke.
Turns out Subway's nine-grain bread has more high-fructose corn syrup than ANY grain. And only trace amounts of eight of those nine grains. Wheat's the only grain that's well represented, but even that's a scam.
The biggest ingredient in the bread is WHITE FLOUR and the brown color doesn't come from wheat . . . it comes from a compound called ammonium sulfate that's also found in FERTILIZER. Yum!!
Plenty of good stuff for your plate this weekend! Enjoy yourself :)