...the big weekend! But first, we'll hang from 3-7pm on Q92 today. Oh, btw, thanks to everyone who commented, both on here (FB) and in person to me on Monday. Had a blast filling in on The DeLuca Show, hope they have me back!
You have big plans this weekend? I'm going to check out SEETHER tomorrow night, stoked for that! I'll be here Saturday and Sunday and then off on Monday, all day! Anyone having a BBQ? You could invite me over if you wanted :)
Here's some shtuff...
RUSSELL BRAND: ACCESS DENIED!!!
KATY PERRY tried to bring husband RUSSELL BRAND with her when her tour hit Japan the other day...but they wouldn't let him into the country because he has a CRIMINAL RECORD.
She Tweeted, "My husband just got deported from Japan. I am so. sad. I brought him all this way to show him my favorite place. #tokyodreamcrushed."
Then she added, "It was for priors from over 10 years ago!"
Russell was arrested numerous times back in the day...for such offenses as drug possession and public indecency. He's sober now. You'd never know it.
Russell actually took a photo of himself while in custody, before they sent him home...and he posted it on Twitter along with the caption, "Planning escape from Japanese custody. It's bloody hard to dig a tunnel with a chopstick."
P!NK IS PISSED AT SELENA GOMEZ!
She used to pick fights with Britney and Christina...now PINK has beef with SELENA GOMEZ for painting horses pink for her "I Love You Like a Love Song" music video.
Pink initially noticed the painted horses without knowing whose video it was. She Tweeted, "If there are any animal activists around Malibu...there are horses being painted for a stupid music video. Shame."
"Artists should be more aware and responsible for their actions."
And when Pink found out that it was Selena that she'd picked a bone with, she did NOT back down...even though she expected some backlash.
She Tweeted, "Oh lord, THAT'S whose video it was? Disney fans unite...here we go. Whether u r a fan of mine or whomEVER'S, I won't stop speaking out about animal cruelty. I've taken responsibility in the past, so should she."
Selena hasn't commented, but her rep says the horses were painted humanely...quote, "No animals were harmed and all proper precautions were taken. A non-toxic, vegetable based powder paint was applied via an airbrush and removed with water.
"An official from the Humane Society was on set supervising."
IMPULSIVE...
Here's one of those studies that seems to defy gender stereotypes...
According to a British company called Npower, MEN spend more money on impulse buys than women: Men spend approximately $41 on impulse buys versus $31 for women.
The main reason is that women spend more time bargain hunting, going to sales, and researching before they buy something. Men are more likely to grab something off the shelf or buy something online.
Men are also more likely to go out impulsively to eat or drink...women plan their meals and nights out more carefully.
The study found that the average person spends $114,293 in their lifetime on impulse buys. They didn't break the number down by gender.
The top 10 most common impulse buys are: Food, clothing, magazines, wine, books, DVDs, shoes, trips, beer, and toiletries.
The next 10 most common are: Home furnishings, music, clothes for the kids, jewelry, accessories, gadgets, garden accessories, flowers, toys, and day trips.
REMEMBER YOUR FIRST CD/CASSETTE PURCHASE?
LADY GAGA was asked about this...the first album she bought was GREEN DAY'S "Dookie", which came out in 1994.
"[I bought it] with my own money. But my parents got me Stevie Wonder, 'Signed, Sealed [and] Delivered', and the Beatles when I was younger...'A Hard Day's Night'.
"Yeah, they were two CDs and they were given to me with [a] little boom box for Christmas when I was young."
Lady Gaga says it was those selections that made her turn out the way she did.
She says, "Just good choices, Mom and Dad. They could have chose anything, but Stevie Wonder and the Beatles? I mean, it's totally their fault.
I thought she was BORN This Way though, right? Anyway...
"Don't spoon feed me the Beatles and Stevie Wonder and Bruce Springsteen and Pink Floyd and Led Zeppelin and Elton John and expect for me not to turn out this way. Nobody made you do that."
TIMES ARE A CHANGIN'...
Things have changed a lot since you were in high school, man. According to a new survey, 57% of Americans...almost three out of five...say that being called a "geek" isn't an insult any more: It's a COMPLIMENT.
What about dork? I get dork A LOT, but usually accompanied by laughter and sometimes told its a good thing. Hmmm.
And for adults, 41% would rather be called a geek than a jock. 22% would rather be called a jock than a geek. But only 17% of Americans actually identify THEMSELVES as a geek.
Young people are the most likely to have a positive view of the word geek. 66% of people 18-to-34 say that geek is a compliment...while only 39% of people over 65 agree.
AHH, YOUNG LOVE...
The Bieb and Selena Gomez. She's totally checking out his ass.
SHOCKER!! NOT QUITE...
This is less a survey about safe driving and more an insight into the IDIOTS we see on the road each day.
Harris just finished a survey of more than 1,500 Americans. They asked "Are you an unsafe driver?" And the number of people who said yes is...ZERO.
In other words: Not a single person out there believes they're the problem.
83% of the people surveyed claimed to drive safely. The average person said 90% of OTHER drivers are unsafe. Amazing.
And the egotistical sense of entitlement doesn't stop there. 20% of drivers said that they can eat, drink, talk, reach into the backseat, whatever...because they're good enough drivers to do that without compromising safety.
Awesome.
AND I CAN'T SAY THIS SURPRISES ME...
According to a new study by TomTom GPS, traffic jams stress out men up to SEVEN TIMES more than they stress out women. I mean...it's so bad, traffic jams might actually stress out men more than women do.
In the study, women's stress levels jumped up to 8.7% in heavy traffic. Men's stress levels jumped up to 60% in the exact same traffic. 67% of women felt no stress, versus 50% of men.
A psychologist who ran the study says it makes biological sense. Men have an instinct to either confront a problem or walk away...women have an instinct to find a way to relax while they cope with the problem.
GUYS, DON'T BE HAPPY IF YOU WANT TO SCORE A GIRL...
This might also be proof that women like a guy who has something that needs 'fixed' or at least, that they can appear to fix.According to a study out of the University of British Columbia in Canada, women are significantly more sexually attracted to a man who is MOODY, MISERABLE, or BROODING than a man who's smiling and happy.
The study also found women are significantly more sexually attracted to a man who looks cocky, proud, or powerful than a man who's smiling and happy.
The study only tested initial gut reactions and sexual attraction...not whether a woman thought the man would be a good boyfriend or husband.
The study found that men are completely the opposite of women. Men found themselves MOST attracted to smiling, happy women and least attracted to ones who looked cocky or miserable.
Men were also more generous with their rankings...they ranked women attractive more often than women ranked men attractive.
NOW, ON THE FLIPSIDE...
Supposedly the first thing single people look for in another person is a sense of humor. So apparently hot girls and rich guys are much funnier than the rest of us.
Anyway, eHarmony ran a major survey to figure out what styles of humor are most attractive to the opposite sex. And it's pretty simple: Men are better off with dry, sarcastic senses of humor...and women are better off making fart jokes.
The study found that men are 7% more attractive when they're sarcastic...16% more attractive when they're dry...and 6% more attractive when they're ironic.
For women, JUVENILE humor added 7% attractiveness...sarcasm added 14%...geekiness added 5%...and being dirty and raw added 4%.
Now, as for what kinds of jokes make people UNATTRACTIVE...
For men, dark humor makes you 14% less attractive...being dirty and raw knocks you down 9%...and practical jokes also knock you down 9%.
For women, POLITICAL humor makes you 12% less attractive...practical jokes make you 9% less...and being ironic knocks you down 4%.
SOMETIMES...
USHER forgets to zip fly before going on stage. He's only human. But this is what happens when he does.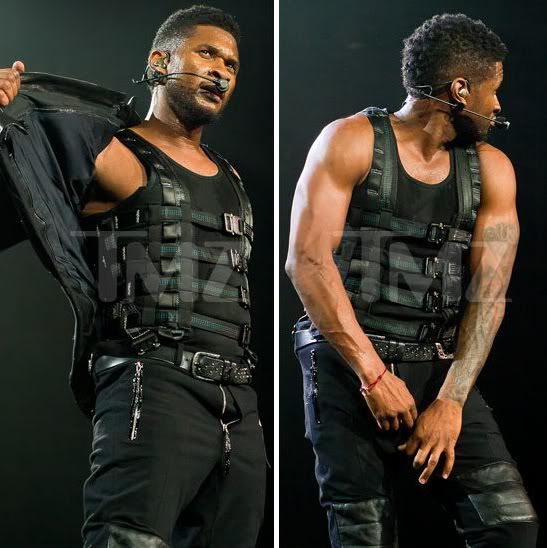 Will.i.am HAS ANOTHER SOLO ALBUM ON THE WAY...
If there's anyone who just CAN'T GET ENOUGH of WILL.I.AM...anyone at all...this should be very exciting news: Will.I.Am has another solo album in the works.
That's according to FERGIE...she says, "I believe Will is coming out with a solo album. I've heard it. It's called 'Black Einstein' and it's amazing. I've been waiting for him to come out with this for so long because I want it. He won't give it to me. I want it for the gym.
"He's so amazing...just such a genius lyricist...and I'm really excited for his project."
POP-UP VIDEO!!!
Remember VH1's '90s sensation "Pop-Up Video"?
Of course you do. It was the music video show where bubbles would pop up with various trivia "nuggets" and sarcastic remarks. It was all over VH1 from 1996 through 2002.
Well, it's coming back!!!
The show's co-creator...who seems unnecessarily bitter...explains, "I have sat on the sidelines for the last decade and watched as everyone and their brother has ripped off 'Pop Up' in some way or another...
"With the internet coming out of nowhere and Twitter being hauntingly familiar and all of these devices that are using snarky, pithy text...they're [using social networking] to create their own pop-ups in a way."
VH1 has ordered 60 new episodes, which will start airing sometime this fall.
Only a few differences from the original show have been revealed: This time, they're taking on hip-hop videos, too. (Those videos were "off limits" during the original run, because hip-hop was considered the "domain" of VH1's sister network, MTV.)
And they're planning to include some "user-generated content"...although it's unclear how that's going to work.