This is my 100th blog post! I counted!
......ok, it tells me when I login. Shutup.
And sorry there was none yesterday...I actually typed one or two stories, but then I stopped....so, you get extra extra today!
HOW DID WE GET HERE?
So how did this even come to be? And where does the name come from?
Back when myspace was cool, I used to every now and then post a blog called a 'random' since everyone has always told me I'm one of the most random, off-the-wall people they've met. It was a bit different back in those days, as I didn't really talk too much of what was going on with the music stars and celebs, as it was just random thoughts on my mind.
And I'm actually gonna give you a taste of that today!
A close friend of mine and I have been talking lately about 'signs'...she's convinced that all these things that are happening are signs of things to come. I'm not sure I believe it, but I do believe that everything happens for a reason, so...
There's a sign at a business on Route 62, if you're going west, its about 1/4 miles before BP/Middlebranch Rd and it says "free fees"...tell me HOW that makes any sense?! Quit letting the interns update the sign!
I was out and about this morning, listening to The DeLuca Show of course...sometimes you really don't think about the lyrics to the songs...but it's amazing how so many songs I've heard today are relating to my life right now. As one of our music promos earlier this year said (and I may actually bring back here very soon), "music captures a moment...the time...the place...the feeling. The soundtrack to our lives."
Speaking of DeLuca, I think he's very proud of the fact that you can go see him at this year's Stark County Fair. And you can even eat him!
....see, there's a steer named DeLuca in the fair this year. It's owner lives in Louisville. You can even bid on him tomorrow night at 6pm in the beef barn! LOL
And continuing to tie it all together with food...apparently the trend is feeding me. Do I look malnurished to you? Seriously!! Katie and Ariel both want me to visit them where they work (at restaurants), Ashley wants to bring me pepperoni rolls (which she did once but someone at work ATE THEM...not too pleased about that...), Monica wants to bake me cookies....
Now that I think about it, I'm sure not complaining about it!
I love the promo we're running for our Dirty Heads show. I mean, I kind of have to love it. I did write it and produce it! Our voice guy ("BC" is his name) sounds like he had a lot of fun with it. Some of his outtakes are quite humorous...I wish we could work more of them in on the air. I'm actually going to produce a few "day in the life" with him...just from him telling random stories during VO sessions. Quite funny!
I had a ridiculous dream last night. Someone stabbed me. For real. But I lived! Oh, and the guy who stabbed me DIDN'T GO TO JAIL...and we ran into eachother and people were like trying to hold him back from getting to me.....a little frightening I suppose!
September, starts tomorrow, and it's NATIONAL BREAKFAST MONTH! mmmm, delish!
That's really all I've got on my brain today. I've cleared my head over the past few days and am feeling good.......let's delve into the real reasons you came here!
GAGA DISSES PARIS...
LADY GAGA went to high school with PARIS HILTON. But according to Gaga, that's where the comparisons end. She says, "I don't see Paris as an artist.
"I was the smart, studious theater and music student. I didn't hang out with all the popular blonde girls. I wasn't blonde really until I was 20 years old."
I doubt that IT'S ON between Paris and Gaga now. Because I can't imagine Gaga said anything here that Paris would disagree with. I mean, if Paris actually does believe she's an artist, she needs a SERIOUS reality check.
She probably does.
USHER DOESN'T HATE THE BABY MAMA...
USHER'S marriage to TAMEKA FOSTER didn't survive. But he doesn't regret it.
He says, "I appreciate the relationship for what it was. Even though it didn't work out, I'm glad we got together. I love her as the mother of my children; we just couldn't be married."
Usher says the relationship started going south after the birth of their second child, when they started disagreeing on everything from parenting style to Usher's busy schedule.
He says, "We're two different people, and we have two different goals. It just was never going to work out 100%."
Usher and Tameka have two kids . . . 2-year-old Usher the 5th and 1-year-old Naviyd.
SNOOKI SNOOKI...
You know that saying that there's somebody out there for everyone? I now believe beyond a shadow of a doubt that it's true...because there's a guy who's willing to marry SNOOKI from "Jersey Shore".
Snooki's boyfriend, JEFF MIRANDA, has PROPOSED. But he didn't do it in person. He got down on one knee on the cover of "Steppin' Out" magazine. And he was shirtless, not surprisingly. Looksie...
Jeff tells the magazine, "I want us to be together forever. I could see us having children. I want to pop the question to her.
"If we got married we would be the best parents around. She's so loving and puts everyone else before herself. She'll be a great mother."
.....bahahahahahahahahahahahahahahahahahahaha!!!!!!!!!!!!!!!!!!
Anyway. Jeff admits that his proposal will take Snooki by surprise, but he says, "Once she deals with the shock I think she'll say yes. I really do. In fact, I know she'll say yes."
Oh, and before you ask, Jeff KNOWS you think he's just doing this for his own publicity...but he swears he's not. And no one knows what Snooki's response is yet.
KATY PERRY...
...with a 'near' nip-slip!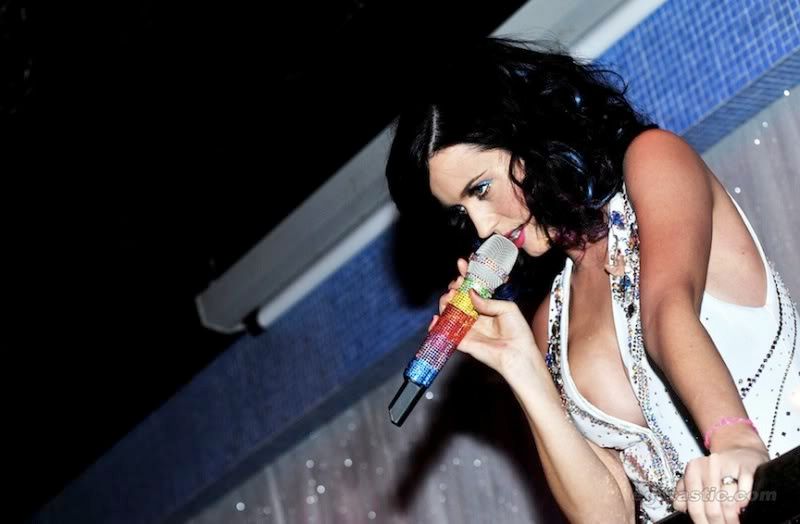 THIS MAY VERY WELL MAKE YOU VOMIT...

Hollywood has had some bad ideas lately...but what I'm about to tell you could very well be one of the WORST. If it ever actually makes it to the screen, that is. And for the love of God, I hope it DOESN'T!
JUSTIN BIEBER wants to remake "Grease"...with MILEY CYRUS as his leading lady. (Excuse me...hurl time..................) He also suggested that SUSAN BOYLE could play the principal.
He says, "That would be a lot of fun. It's been talked about a lot over the years, but it would be awesome to play Danny."
As for Miley, he says, "She can sing, dance and act."
Hey, he got 2 out of 3 I suppose. I think we all know she can't sing.
MEANWHILE, MOVIES ARE DOING AS GOOD AS EVER...

Movie attendance in the U.S. was down this summer...to its lowest point in five years. And yet revenue hit an ALL-TIME HIGH.
The number of tickets sold through this coming weekend is expected to be around 552 million. (It was 563.2 million in 2005.)
But revenues will be around $4.35 billion...which is $100 million more than the record that was set last year. (!!!)
You know what this means, right? Less people are going to the movies...probably because ticket prices are so high...But movies are banking more cash than ever, because ticket prices keep getting jacked up!
NEW KID ROCK...
It sounds like KID ROCK wants to be taken a little more seriously on his upcoming album, "Born Free", which he says is about the crapification of his hometown.
He says, "The catalyst for this record was Detroit, and my thoughts on the world through the lens of Detroit. Watching everything go downhill over the past few years, the economy, the loss of jobs everywhere...
"I wanted to make a record that reflected the times but that still had soul."
A press release for the album says that it'll be, "transformational." It insists that Kid will still be his edgy self, but that he's not doing the "rap-metal" thing on this disc. In fact, it even notes, quote: "There isn't even a parental warning sticker."
"Born Free" features collaborations with Bob Seger, T.I., Sheryl Crow...plus country stars Martina McBride, Zac Brown and Trace Adkins.
And the guest musicians include Tom Petty and the Heartbreakers keyboardist Benmont Tench, Red Hot Chili Peppers drummer Chad Smith, Los Lobos guitarist and singer David Hidalgo, and Chavez guitarist Matt Sweeney.
"Born Free" is scheduled to hit stores on November 16th.
DIRTY BACON!!!

Have you heard the latest Wendy's commercial on Q92? You should, my voice is on it! Regardless, they talk about replacing the word "money" with bacon. Hence the headline above. Anyway, Everyone out there who thinks the FIVE-SECOND RULE is ridiculous...and that once food hits the floor, it's garbage...you now have a crusader on your side.
He is name is Derron Cooke of Hartford, Connecticut, and he's a 25-year-old who works at Wendy's. On Friday afternoon, he pulled a KNIFE (!!!) on one of his co-workers and threatened his life.
But according to Derron...he should be APPLAUDED. Because HE says the reason he pulled the knife is because the guy had dropped some bacon on the floor...and still wanted to serve it to customers.
DIRTY BACONATER!!!
Lieutenant Stephen Estes of the West Hartford police says, "According to [Derron], his purposes were altruistic. He wanted the public to get good bacon."
The co-worker, whose name hasn't been released, disagrees. He says that he was cooking some chicken and Derron came over and criticized his technique. After they argued, Derron pulled the knife.
Whether it was the bacon or the chicken, Derron was arrested and has been charged with attempted second-degree assault, first-degree reckless endangerment, threatening, and breach of peace.
GOIN' TO THE FAIR...

Stark County Fair opens TODAY thru Labor Day at the fairgrounds in Canton...go see DELUCA THE STEER! He's in the beef barn. Admission is free before Noon today, Wednesday and Thursday! Maybe head over for lunch? I'm probably going to do that myself!
OK, SO DRAKE AND NICKI DIDN'T MARRY...
For whatever reason, DRAKE and NICKI MINAJ both announced on twitter that they'd, quote, "tied the knot." But they didn't.
Both their reps have denied that they're married...and said it was a joke. They HAVE been dating for the past few months though, if you want to believe that.
SLEEPING YOUR WAY TO THE TOP...
I had NO IDEA that offices around this country are really just fronts for GIANT ORGIES.
According to a new study by the Center for Work-Life Policy, an ENORMOUSLY HIGH number of women admit that they've had relations with their boss. How many women? Try 15%...or more than one out of every seven.
What that means: At work today, take a look at seven of your female co-workers. Statistically, one of them has done your boss. Hmmmmmmmmmm...........
And it works out doubly well for them...not only do they get themselves stimulated, but they get PROMOTED. Of the women who've had an affair with their boss, 37% say it gave them a career boost.
There is a downside, of course. 61% of all men and 70% of all women said they'd instantly lose ALL respect for a boss who was involved in an affair with a co-worker.
60% of men and 65% of women would suspect that the lower-ranking person in the affair was trading sexual favors for salary hikes and better work assignments.
And 39% of men and 37% of women say the affair would probably affect the productivity of the entire team.
Back tomorrow! Bookmark the facebook:
http://www.facebook.com/robbiemackpage